Music Lessons in Fort Wayne, Indiana
Taking guitar lessons growing up was an invaluable experience for me and I want to pass that along. No matter the age, learning an instrument is something everyone can enjoy. I have teaching experience since 2011 that ranges from the following instruments: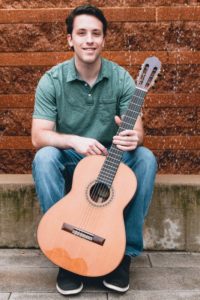 Guitar – acoustic, electric, or classical
Piano & keyboard
Ukelele
Live Music to Fit Any Occasion
Live music is an outstanding addition to any event, and my goal is make sure that the music I provide is exactly what you are looking for. No matter the event, one of these options should fit the bill:
Weddings – classical guitar
Formal events – guitar and violin duo
Entertainment – Amber Road (cover band)
Casual background – solo acoustic guitar
Karlea & Andy (Vocal/Guitar Duo)
Karlea Boleyn and Andy Mauch come from Fort Wayne, Indiana and bring with them a soothing vocal and guitar blend. Their repertoire comes from a diverse selection of genres and times, ranging from Fleetwood Mac, Frank Sinatra, Norah Jones, Stevie Wonder, Vance Joy, and more. This duo has experience performing at public events, weddings, and markets, and everywhere in between.
For more information, reviews, and upcoming events, please visit Karlea & Andy's home page.